6th Biannual Meeting of ANSP( Academic Network at São Paulo), in conjunction with the "CineGrid Brazil 2014″ International Conference
6th Biannual Meeting of ANSP( Academic Network at São Paulo), in conjunction with the "CineGrid Brazil 2014″ International Conference
São Paulo – SP – Brazil,August, 25-29, 2014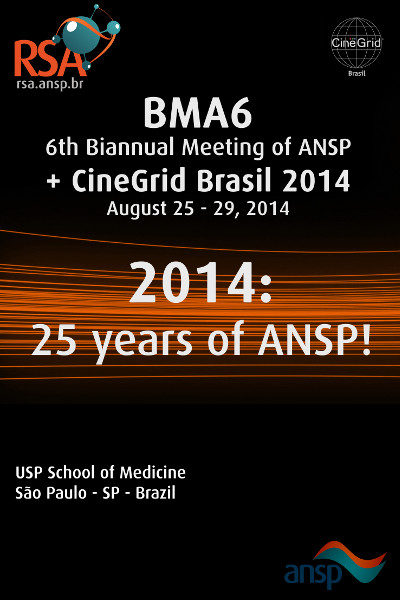 FIU CIARA will participate in the 6th Biannual Meeting of ANSP (BMA6) in São Paulo at the University of São Paulo's Butantã campus from 25 to 27 August 2014. This will be a special meeting commemorating the 25th anniversary of the ANSP project! As one of the objectives of the BMA is to promote closer ties and integration among the members of the ANSP Ecosystem and, in particular, among the institutions that develop innovative research projects, BMA6 will be held in conjunction with CineGrid Brazil 2014, an international conference dedicated to the discussion and dissemination of video streaming projects that require high bandwidth. The activities of BMA6 take place from 25 to 27 August and those of CineGrid on 28 and 29 August.
All the BMA6 activities will take place in the University City (USP-Butantã). On the three mornings, thematic symposiums will be developed in the István Jancsó Auditorium of the Guita and José Mindlin Brasiliana Library. Facilities in this new auditorium, in addition to the traditional features, include the capability for image capture and the transmission of IPTV.
Courses will be offered in the afternoon, in the LaSSu (Laboratory for Sustainability) building, in USP's Polytechnic School.